Precast Concrete Sign Bases
Precast concrete sign foundations from Texas Disposal Systems
Concrete Sign Bases
When you choose your next sign, make sure you consider how you will support it. Our concrete sign bases are high-quality, made to last and easy to install. Learn more about our sign bases here, or reach out to our support team to get a quote today.
Request a Quote
Built to Fit Your Needs
All of our concrete sign bases are built to spec. Each precast base is produced at our concrete plant and cured under controlled conditions so you get the highest quality product, built to meet your needs.
Easy Installation
Our precast sign bases get delivered to you in a singular piece, ready to install. There's no need to spend time creating forms or waiting for concrete to cure; you can install our sign bases immediately upon delivery..
Improved Durability
Our precast pillars and columns are all created in-house at our concrete processing facility. Our precast concrete products are cured under controlled conditions, allowing for a finished product that is built to last.
Precast Sign Base Uses
Proper signage allows businesses to capture attention and communicate important details to passersby. Precast sign bases allow you to install signs with ease so you can save time and hassle. Our concrete bases are perfect for all large signage needs, including:
Shopping centers

Office buildings

Stadiums

Event venues

And more
Request a Quote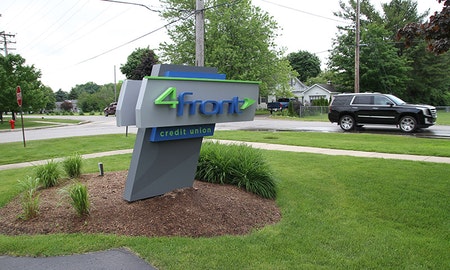 Precast Concrete Sign Bases FAQs
Is it easier to install precast sign bases vs cast-in-place sign bases?
Yes. Precast bases have huge advantages over cast-in-place options in terms of ease of installation and time needed to install. Precast sign bases are delivered in one piece, ready to install. Off-site casting eliminates the need for building forms, setting rebar, and waiting for concrete to cure to make installation as easy as possible.
What size light pole bases can I get?
Our sign bases are built to your exact size requirements. You can work with our support team to determine the right size for your project or order bases to spec based on your given dimensions. 
Where can I purchase precast sign bases?
High-quality, durable concrete sign bases are available from Texas Disposal Systems. Our precast products are crafted in-house in our concrete processing facility and built to customer specifications.Call 737-236-7073 or fill out the Concrete Pole Base® form to order your precast sign bases today!