Light Pole Bases
Precast concrete pillars and columns from Texas Disposal Systems
Precast Concrete Pillars and Columns
We are proud to now offer precast concrete pillars and columns. Our precast columns can be used for flag pole bases, driveway pillars, decorative fencing and more. Learn more about our Pole Base® products here, or reach out to our support team to get a quote today.
Request a Quote
Built to Fit Your Needs
Our concrete columns get delivered to you in a singular piece, ready to install. There's no need to spend time creating forms or waiting for concrete to cure; you can install our precast pillars immediately upon delivery.
Easy Installation
Our precast pillars and columns are all created in-house at our concrete processing facility. Our precast concrete products are cured under controlled conditions, allowing for a finished product that is built to last.
Improved Durability
Our precast concrete pillars are available in different textures. Each column is delivered with a professional, finished look so you can achieve the design you want from the start.
Precast Concrete Pillar Uses
Our precast pillars and columns for many different projects, including:
Flag pole bases – Ground set flag poles need a strong foundation to last in outdoor elements, such as high winds or soil erosion. Our precast flag pole bases are designed and manufactured to last you through all environmental factors. 
Driveway pillars – Concrete pillars are a great way to accent or mark driveways. Our driveway pillars are easy to install and come in a range of finishes to meet your desired aesthetic. 
Fencing – Our precast pillars can also be used for decorative fencing that doesn't distract from an area's views. Installation is simple and allows for fencing to be completed quickly.
Request a Quote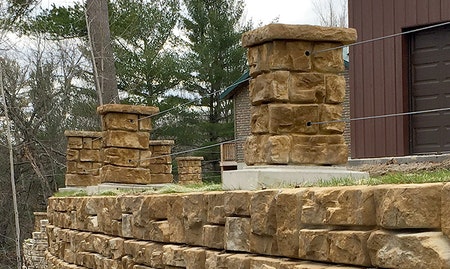 Precast Concrete Column FAQs
Is it easier to install precast concrete columns than installing cast-in-place columns?
Yes. Precast columns have huge advantages over cast-in-place options in terms of ease of installation and time needed to install. Precast columns are delivered in one piece, ready to install. Off-site casting eliminates the need for building forms, setting rebar and waiting for concrete to cure. 
Can I order a custom-sized concrete column?
Yes. Our precast columns are built to your exact size specifications. Reach out to our support team to get a free quote.
Can precast columns be wired for electricity?
Yes. Our columns can be cast to accommodate electrical needs, such as adding lights to driveway columns. 
Where can I purchase precast concrete pillars?
High-quality, durable concrete pillars are available from Texas Disposal Systems. Our precast products are crafted in-house at our concrete plant and built to customer specifications. Call 737-236-7073 to order your precast concrete pillars and columns today.