What is my pick-up day?
Where should I put my cart for pick-up?
Place your cart on the curb or street out of the way of traffic and at least five feet away from vehicles, mailboxes, low hanging branches, or other hazards. (See Proper Cart Placement video)
What is my pick-up schedule during holidays?
Why wasn't my cart and/or extra waste picked up?
Any time you find that all your trash placed curbside was not serviced after a TDS truck arriving, please contact our offices at (800) 375-8375 for direct assistance. We want to work directly with you to help ensure that you are provided regular collection services.
There are a variety of reasons that waste may not have been collected, including (but not limited to):
Contamination in your container
Too many bags left at the curb
Unorganized waste
Excessive weight in your cart
Hazardous waste
Hazards in the way such as other vehicles
Or other issues
By what time should the cart be at the curb?
Containers should be placed by the curb no later than 6 a.m. If possible, please place your container out the night before your service day to ensure that you will be serviced.
In most residential areas, our trucks operate from 7 a.m. to 7 p.m., but service time may be affected by region or contract.
Can you come back to my address if I forgot to put my trash out on time?
If you placed your container out too late for service, please contact our offices at (800) 375-8375 to see if an additional collection can be scheduled for your address. Additional charges will be assessed.
How do I schedule an extra pick-up?
Please call the Customer Care Department at (800) 375-8375.  A fee may be charged for an additional pick-up.
How do I set out bulky/brush waste? How much does a bulky or brush pick-up cost?
Please contact our offices directly at (800) 375-8375 to schedule collection of additional items that cannot be placed in your container. Our staff will advise you of limitations and additional charges for the service as well as schedule a day to collect the items.
The cost of a pick-up and the limitations of a pick-up vary by each city and each local contract. Not all prices and policies are universal. However, in general, there are important things to note:
In most cities, TDS will normally collect up to three cubic yards per household (approximately the size of a washer and dryer set; see below). Larger sizes may be available at additional costs.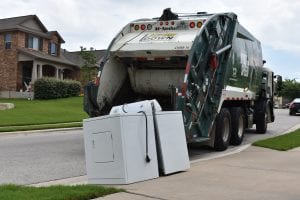 Bulky and brush waste must be neatly placed at the curb away from hazards like low wires, branches, vehicles, fencing or mailboxes.
Brush waste must have their loose items secured. This means branches are cut to under four feet in length and are tied together with string. See the example below for properly bundled brush.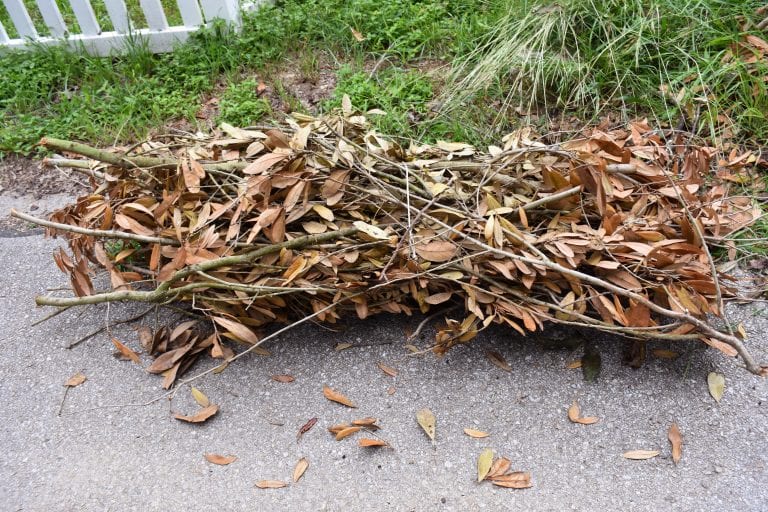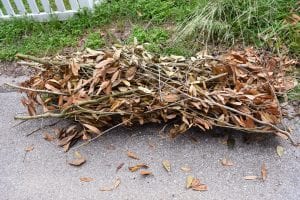 Bulky and brush waste must also be free of hazardous waste such as paint, chemicals and tires, and non-compactable waste like dirt, soil, rock and construction waste.
Appliances set out for bulky waste should be free of chemicals like freon, and be properly tagged by a technician if chemicals were removed.
To confirm your bulky pick-up and local limitations around your collection, please contact our customer care team.
My garbage container has been vandalized or damaged. What do I do?
Call our Customer Care Department at (800) 375-8375 or email [email protected] with your address and the cart information. We will be happy to replace damaged containers.
How do I set up new service or rent equipment?
To receive a quote, submit your information through our quote request form.
Our Customer Care Department will contact you within a business day to discuss service options, rates, and other information.