Children love them. Families, neighborhoods, businesses and municipalities need them. We're proud to work with them. 
We're talking about our TDS truck drivers. 
These men and women work hard on a daily basis to ensure we all have access to waste processing services. More than 3.5 million have jobs driving trucks throughout the US, and we're fortunate to have some of the best drivers in the Central Texas area – actually, some of the best drivers in America – doing valuable work for TDS. 
What Makes Someone a Great Driver or a Great Candidate for Driving for TDS?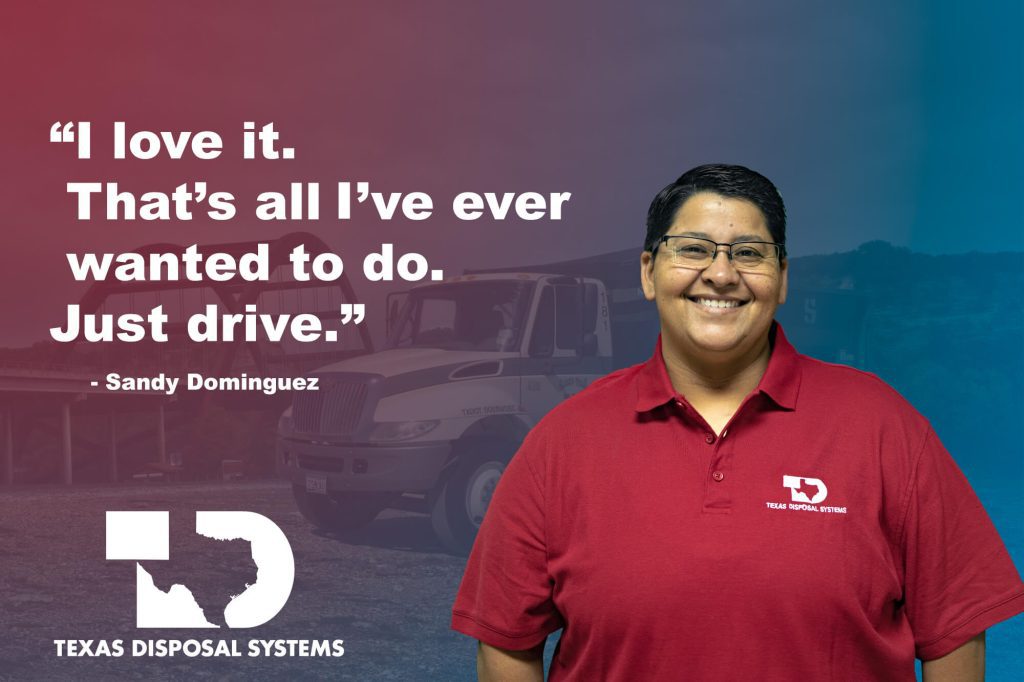 We start with a love of driving in some cases, like with TDS driver Sandy Dominguez. Sandy recounted that driving had always sounded like a dream career. "I love it," Sandy said. "That's all I've ever wanted to do – just drive." 
Along with a love of driving, there are a few other traits we recognize in great drivers for TDS. 
1. Patience and flexibility. 
Routes change. Traffic and construction can clog up normal pathways. Schedules can shift. 
For many of us, these issues can lead to frustration. For a great driver, it's all in a day's work. Drivers learn to manage their daily expectations and to be flexible depending on the external conditions. 
TDS drivers understand they're representing the company when they're out on the road. They are the faces our community sees most often, so their patience leaves a lasting impression on the people whose homes and businesses they're serving.
2. Good judgement. 
Drivers are on the road enough to realize you can't depend on other people's driving skills to keep you safe on the road. Instead, drivers have to be aware and focused at all times. 
Because they often drive in residential areas, they have to be prepared to deal with the unexpected – dogs, children or joggers in the road; cars parked along curbs and obscuring the path to pick up carts; and more. 
Drivers have to be prepared to use their critical thinking skills and to make good judgements that keep them, and the community safe while they're on the road. 
3. Stellar driving skills. 
When you're managing heavy equipment and transporting heavy loads, you need to be in control on the road at all times. 
Drivers in waste processing are expected to have good driving records and to be comfortable maneuvering large vehicles. Many of TDS' driving jobs require a CDL license, although we also may have positions that involve delivering carts, operating machinery or providing other support services that do not require a CDL. 
What Makes TDS Drivers Unique? 
TDS has high expectations for drivers because our drivers represent our company in the community. Many people see our TDS drivers on a weekly basis and form relationships with them. 
The opportunity to have a job driving for TDS is also unique because we have drivers who manage regular routes for waste and recycling pickup. At the same time, because we provide a variety of other services to the community and to local businesses/municipalities, we also have drivers who deliver site service resources to different clients. 
For example, our wide range of services includes: 
One More Thing that Makes TDS Drivers Unique: Their Connections
TDS drivers have an opportunity that's not available to many other truck drivers – the chance to see the impact you're making in the community each day. In fact, that's why many of our drivers have stayed with us for years.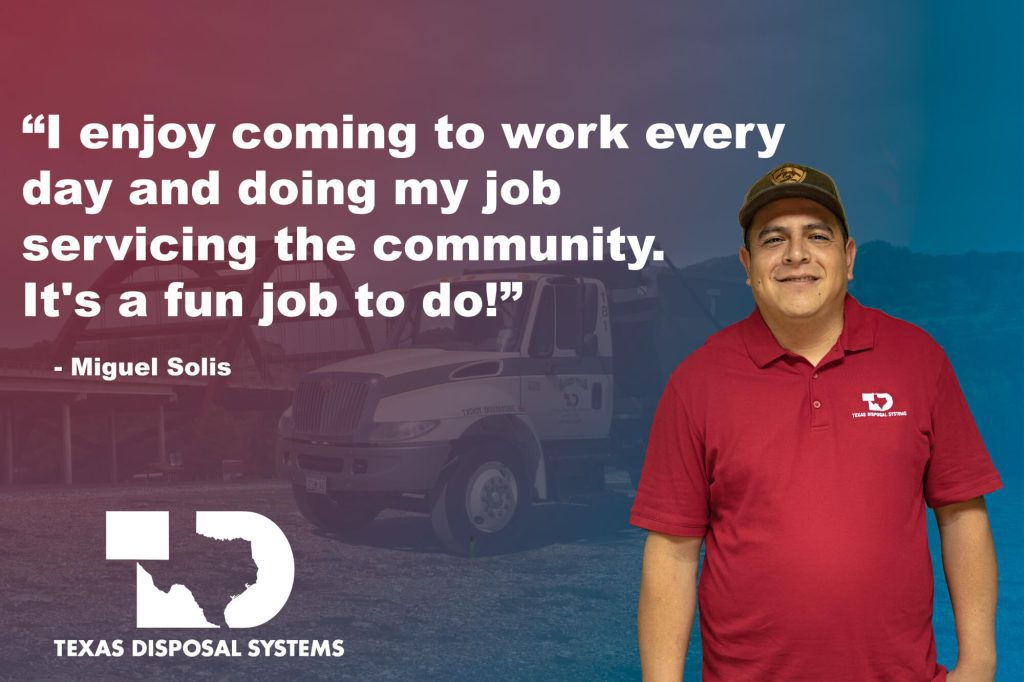 According to TDS driver Miguel Solis, the connection to the community is what makes his job most rewarding. "I enjoy coming to work every day and doing my job servicing the community," Solis said. 
Add to this the ability to be a role model for kids – it's a pretty great opportunity. 
In one local neighborhood, seeing Warren, their TDS truck driver, was the highlight of the week for two little boys. Every Thursday, the boys (Hendrik and Alarik) waited outside for Warren with cool drinks and popsicles. 
For Halloween last year, choosing their costume was an obvious choice. They dressed up as Warren, complete with their own vests, TDS trucks and waste carts. 
One of the hardest parts of truck driving can be the lack of opportunity to connect while on long-haul routes. TDS drivers, on the other hand, have the opportunity to be at home daily and to serve the communities where they live and work. 
Interested in Becoming a TDS Driver? 
If this description sounds like you, now might be a great time to consider becoming part of the TDS team. 
We have open driver positions in Austin, San Antonio and the surrounding communities. Visit our Careers page to learn more about CDL and non-CDL driving positions at TDS, as well as to see the latest driver bonuses available.