With a new year well underway, it's hard to believe that it's been over a year since the start of the pandemic. Over the past year, we've all had to adjust to major lifestyle changes to stay at home as much as possible. We've postponed vacations and celebrations, started working from home, and transitioned schools to virtual learning, all of which has surely made families everywhere a least a little stir-crazy and eager to return to the outside world.
This patience is soon to be rewarded as more of the population gets vaccinated and COVID-19 restrictions loosen. Experts say the end of the pandemic is in sight and we are on our way to a sense of relative normalcy. However, when this "normalcy" will happen exactly is a little more vague. Many families are expecting to stay home through the majority of the summer, which means a few more months of figuring out how to keep the kids entertained around the house. 
A rewarding way to spend this time is to teach your kids about sustainability with the help of fun activities, and Texas Disposal Systems (TDS) is here to help. Below, we've broken out our favorite resources, tips and tools to help instill "green" thoughts and practices into everyday life.
TDS Eco Academy Curriculum
The TDS Eco Academy is a program designed to help minimize waste in Central Texas schools by educating K-12 students about trash, recycling and composting options on their campuses.
The program provides training, along with signage, curriculum and other educational materials for staff, administrators and students with the goal of making learning fun and enabling real-world application.
TDS is thrilled to offer this valuable program to schools who currently utilize our services (aka partner schools), and we're proud to be partnering with the Austin, Georgetown, Eanes and Pflugerville Independent School Districts as well as Valor Public Schools, with ongoing training and signage throughout the districts.
As you're home with your students, we're pleased to make Lesson 1 of the curriculum available for free online! As you'll see, in this lesson there are vocabulary words, questions to ponder and a hands-on "landfill in a jar" activity. We hope you and your kids have fun and learn something along the way!
Virtual Learning and Field Trips
As our daily routines now include virtual learning tools, we're happy to provide you with some great video resources and invite you to take some virtual field trips with us.
Our Sustainability and Diversion Coordinator, Greg Behl, hosts an informative video explaining basic recycling practices for your home. On the TDS YouTube page, we also have several videos such as a virtual tour of our facility, our landfill and composting operations, our Materials Recovery Facility (MRF) and even our animals at the Exotic Game Ranch!
Grab the popcorn and let's learn together!
Earth Month Coloring Pages
Did you know coloring has the ability to relax the fear center of your brain? It
induces the same state as meditating by reducing the thoughts of a restless mind. This generates mindfulness and quietness, which allows your mind to get some rest. A research study has also shown that smelling crayons can even reduce blood pressure in adults by 10 points!
Now that you have a perfect excuse to stop and do some coloring, here's your chance to have some fun and do your mind some good with these fun coloring pages, just in time for Earth Month. Be sure to share your kids (or your) favorite finished product on our Facebook page. Happy coloring!
Nature Bingo
Need some new ideas for PE time? How about playing a fun game of Nature Bingo? This fun game not only gets the kiddos outside for some fresh air, it gives them a chance to connect with nature and learn a little more about their environment.
Simplify Chore Time with our Waste Wizard App!
Now more than ever, you'll want to find ways to make chore time well, less of a chore. The TDS Waste Wizard can help remind you (and your kids) of your collection day (in TDS service areas), so there's no excuse for missing it!
Need a lesson in how to sort different types of waste? Click on the "What Goes Where?" section to determine whether a specific item goes into your trash, recycling or compost.
There's even a great "Waste Sorting Game" so your kiddos can brush up on their waste sorting knowledge. After completing the game, your kids can even print out a certificate to show off their waste sorting expertise!
Plant a Raised-Bed Garden with Your Kids!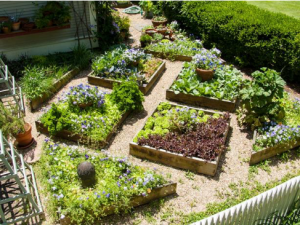 Enjoy these tips for planting a raised-bed veggie garden! Your kids will love digging in the dirt and you might even have a little fun too!
And if you're looking for a great place to find locally sourced, natural garden products such as soil, mulch and compost, look no further than Garden-Ville.
For complete details, visit Garden-Ville.com.  
DIY Disinfecting and Cleaning Tips
In order to protect your family during this time, we know how important it is for you to feel like you're keeping your home as clean as possible. Here are some tips for using something you probably already have in your house as a natural disinfectant and more!
And what about all the extra chemicals in the bleach and those cleaning wipes, not to mention the waste? Here's how to make your own cleaning wipes while helping protect yourself and the environment!
Start Your Own Compost Pile
Now that you're staying in and eating at home, you're probably noticing more food waste and wondering how to make the most of all of it. Here are some tips for doing the right thing with those food scraps while creating something helpful for your garden and Mother Earth.
Practice these 5 steps for composting items from your kitchen:
Step 1: Gather your items:
Yes*:
Fruits, veggies, herbs, food scraps (excluding meat), liquid (excluding oil and kitchen grease), egg shells, coffee grounds and paper filters, tea and tea bags, toothpicks, and newspapers (no glossy paper or color print)
No:
Meat or animal products, bones, shellfish, walnuts (they contain a compound that can be toxic to plants), oil/kitchen grease, dairy (including eggs, yogurt, butter, etc.)
*These "Yes" items can be stored in a sealed container that lives on your counter or under your sink until you're ready to transfer them to your backyard compost pile.
Step 2: Bring items outside to your compost pile.
Remember, there are two primary elements necessary for the composting process:
Nitrogen = Green matter (fresh and often wet) such as fresh grass clippings, feathers, flowers, hair, seaweed, algae and items from the "Yes" column in Step 1.*
Carbon = Brown matter (dry and often dead or woody) including items such as wood shavings, corn cobs, cotton/wool, dried grass clippings, dry leaves, hay, paper, pine needles, straw, wood chips, or even old newspapers.*
*Aim for a balanced amount of "green" matter and "brown" matter in order to keep your compost healthy. Always avoid pet waste and weeds with seeds.
Step 3: Maintain your pile by turning and watering.
In addition to Carbon and Nitrogen, it is important to provide oxygen and moisture in order to ensure the microorganisms are staying active and adequately breaking down the organic material into what will one day be finished compost. Be sure to cover the pile to retain moisture and heat. A good rule of thumb is to turn a compost pile every few weeks.
Step 4: Wait for it…
Finished compost does not happen overnight. If your compost pile is well maintained and has a good balance of organic material, expect to have finished compost in about 90 – 120 days. Finished compost should be free of large chunks and smell fresh and earthy.
Step 5: Happy Planting!
Once you have determined your organic matter to be sufficiently composted, you are ready to dig in and use it as a soil amendment to help your plants grow healthy and strong. The best part about it is you can grow fruits and vegetables in it, harvest the food, and incorporate the food waste back into the compost pile – it's a cycle of life!
Want to dig deeper into composting? Check out this blog for more info.
Greener Together
As you can see, there are a wide variety of ways to learn about the environment and keep kids busy while you're still at home. Want to keep up the work once school resumes? Ask your district leadership about becoming an Eco Academy school! With age-appropriate lessons and TEKS alignment, Eco Academy – as well as the rest of Texas Disposal Systems – is here to be a resource for you and your family year-round.