Texas Disposal Systems Earth Day Art Program
Every Day is Earth Day
April is Earth Month and to celebrate this important time, Texas Disposal Systems (TDS) uses art to reach people personally and aims to bring families together with creative activities that provide information on waste diversion and environmental sustainability. Our commitment to diversion and keeping our environment clean is evidenced by our fully integrated facility.
Art has the power to build connection and create impact by motivating change in values. TDS shares those same values in helping establish an understanding of how everyone can play a part in protecting our community and planet. That's why TDS partners with local artists to create hand-drawn features and robust images that share fun and playful scenes for everyone to enjoy, and for children and parents to work on collaboratively. Additionally, coloring has been proven to relax the mind and induce the same state as meditating or rest, which is why TDS began the art program in 2020 during the COVID-19 crisis in an effort to connect with families. More information about the curated artwork and coloring pages can be found below.
Earth Day 2023 Mural Artwork
As part of our continued tradition to inspire a deeper and creative connection on Earth Day through art, TDS commissioned a local San Marcos artist, Rene Perez, to create a 23 x 12 foot mural that celebrates the belief TDS embodies as a company, Everyday is Earth Day. Rene Perez curated a piece that ties in the beauty of his city with nature and TDS' role within the community, which we have serviced for 19 years.
This artwork can be seen in person for the next three (3) years in San Marcos, TX at the corner of E. Hutchinson Street and N. Edward Gary Street, right off Town Square! Everyone is encouraged to get a close up look at this beautiful scene and tag @texasdisposalsystems and @reneperezart in your posts.
Download Page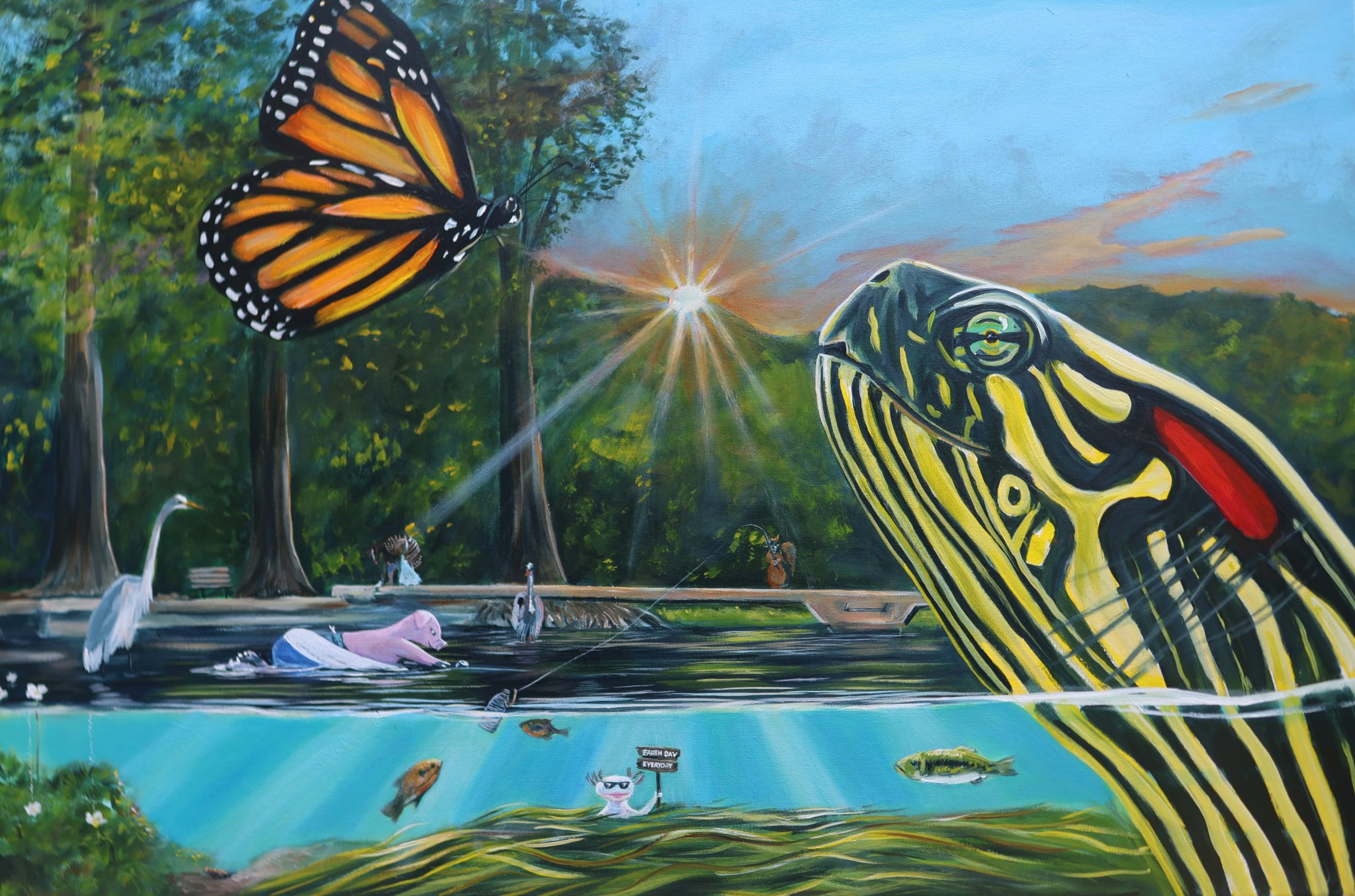 Earth Day 2022 Coloring Pages
Our Earth Month tradition of creating TDS coloring pages continues in 2022 as we partnered with local Austin artist, Avery O Houser of Avery O Design. Learn more on how you and your family can enjoy our Earth Day 2022 coloring page below:
Our 2022 TDS coloring page highlights our commitment to diversion and keeping our environment clean, through our fully integrated facility and Exotic Game Ranch. Take a deeper look at this illustration and you'll find details highlighting Garden-Ville, Rowdy the Rhino and more!
Download Pages
Earth Day 2021 Coloring Pages
As we continue the tradition of celebrating Earth Month with TDS coloring pages, we have partnered with local Austin artist, Sarah Acevedo of Wild Vine Creative to launch a TDS coloring page and activity sheet for families to enjoy together. Learn more on how you and your family can enjoy these Earth Day 2021 coloring pages below:
Texas Disposal Systems facilities coloring page – This page highlights some of the key operations we conduct at our TDS Landfill in Creedmoor, TX. From waste disposal in our landfill and diverting waste through our recycling efforts, to Garden-Ville operations and conservation of our Exotic Wildlife ranch, our commitment to keeping the environment and the communities we serve clean and safe, is expressed through this illustration. Download the coloring page and use your creativity to create your colorful version of our TDS Landfill.
Texas Disposal Systems facilities activity sheet – This activity sheet brings our coloring page to life with bright colors that represent our company and the energy expressed throughout the communities we serve. Download the activity sheet to see if you can spot some of our special TDS icons including the TDS logo, the Garden-Ville butterfly and recycling icons. (Answers: 7 TDS logos, 4 Garden-Ville butterflies, 4 recycling icons.) 
Download Pages
Earth Day 2020 Coloring Pages
In support of Earth Month and in an effort to connect with families during the COVID-19 crisis, TDS partnered with local Austin artist Becca Borrelli of Becca Borrelli Art to launch a series of coloring pages. You'll notice three topics are covered on these coloring sheets:
Texas Disposal Systems page – This page tells the story of Texas Disposal Systems as a whole, encompassing their recycling, composting and landfill operations in Central Texas. The sweeping, curling waves allow for wide drawing spaces and a variety of shapes to fill with color.
Garden-Ville page – The second page tells the story of Garden-Ville, an affiliate of Texas Disposal Systems. The page tells the story of composting, which keeps organic material out of the landfill and builds a nutrient-rich product for gardeners and landscapers to use. With butterflies, plant life, and big skies, the page offers several eye-striking designs to color.
TDS Exotic Game Ranch page – This page tells the story of the TDS Exotic Game Ranch, which serves as living proof of TDS' conservation efforts, as well as the showcasing of having animals thrive and co-exist next to a well-run waste disposal facility. With a giraffe, rhino and zebra well featured, as well as the Austin city skyline, the page shows how all these diverse eco-systems can live in harmony – and how they can all be colored in lovely ways!
Download Pages